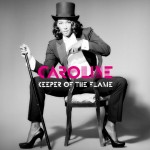 Caroline Hendersons 9th solo album "Keeper of the Flame" is released on the 26th of October 2009. The album picks up from her previous release "No. 8", which received brilliant reviews and sold more than 30.000 copies.
On "Keeper of the Flame" Caroline Henderson interprets a range of classic jazz standards by legends such as Cole Porter, Duke Ellington and Nina Simone, the latter originally behind the title track. The album also features interpretations of songs by contemporary artists like Bob Dylan, Tom Waits and PJ Harvey, alongside the track "Evolution" – the only newly composed number, written by Caroline Henderson herself.
The wide-ranging material Caroline Henderson chose for this album, has in the hands of her and some of the most talented musicians in Denmark churned out an altogether solid and sophisticated album. Once again Caroline Henderson and producer Anders Christensen has managed to create a unique sound without comparison.
Timeless lyrics
"Common for the lyrics on the album is the striking ongoing topic within them, " Caroline Henderson says. " One of the things I like the most about jazz, is this timeless present in them. A song from the 40s can still sound as if it was written only yesterday, and that's exactly what makes it so interesting and inspiring to work with these classic songs. As the title number on my new album points out, it is essential to keep the flame burning, in music as in love".
A tribute to the divas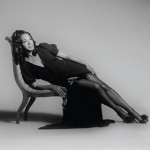 The album artwork is a tribute to all the divas whom Caroline Henderson has been hailed to be amongst. A role she has chosen to embrace in Stephen Freiheits capable hands,  especially on the front cover of the album.
"Rather than to associate a 'diva' with an elevated person who never needs to go down with the trash and who always appears a pure beauty, I regard the divas as strong, self-confident individuals who modern women have a lot in common with and from whom we can learn a lot. 
Classic divas like Garbo, Dietrich and Callas exude feminine strength, which I recognize in myself. You won't get rid of me that easily," she says with a smile.
With the release of "Keeper of the Flame" Caroline Henderson again manages to remind us that she is one of our most talented and interesting artists, and the great empathy and depth to her voice sends shivers down the spine of its listeners.
Caroline Henderson is playing at Copenhagen Jazzhouse on the 20th and 21st of November, and at the beginning of 2010 she will start a major tour which besides Denmark will bring her to Norway, Sweden, Germany and France.