Lonely House
Caroline interprets Kurt Weill
With Caroline Hendersons album release on 25. March, she captures the edge of modern times, and at the same time looks back on the best and most beautiful moments in the musical universe of Kurt Weill.
Human Destinies
'Lonely House' is Caroline's personal and creative interpretations of the kaleidoscopic music of German composer and social critic Kurt Weill. The album is based on the fictitious Lonely House, where the personified songs inhabit each their apartement. Caroline is the storyteller, who reveals their destinies – the life in Lonely House.
Cultural treasure and political manifesto
Caroline Henderson says of Kurt Weill:
"I am deeply fascinated with his courage to take a stand and to express his convictions, which could have cost him his life. Kurt Weill's music is a cultural treasure as well as a political manifesto, and he is revered in Europe and USA. His music spans so many genres, and is of such rare depth, as it was written and composed at great personal risk."
Caroline is excited about the powerful, edgy and very visual lyrics. Through his entire career Weill collaborated with a number of prominent writers, among them Bertolt Brecht, Maxwell Anderson and Jacques Deval.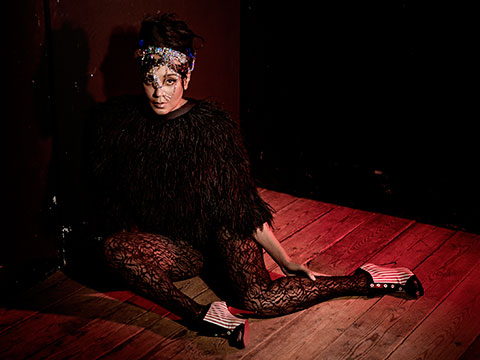 Lonely House features: Nikolaj Hess (piano), Jakob Høyer (drums) and Daniel Franck (bas), who were all part of the band in the show 'Jazz, Love & Henderson'. Also performing are Frederik Henrik Møller (programming and beats) and Gustav Ljunggren (guitar).
The album was recorded at STC Studos in Copenhagen, and was produced by Caroline Henderson herself.
'Lonely House' will be released on 25. March 2013 in Denmark, Germany, Austria and Switzerland.